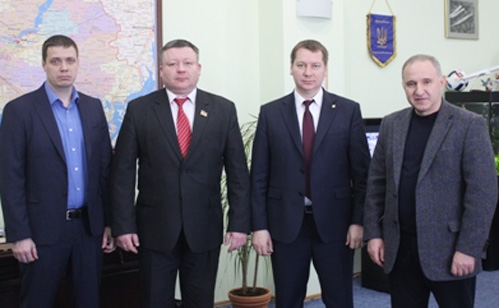 Director of the Heart Institute Borys Todurov recently returned from Kherson, where he has held a series of meetings with the leaders and medical workers of the region.
So, on February 24, a meeting of Borys Todurov with the Chairman of the Kherson regional state administration Andrei Gordeyev was held. In particular, issues of assistance of the specialists of the Heart Institute in deployment of reperfusion aid, as well as the formation of four hospital districts in the region as a result of the possibility of opening the Heart center on the basis of the Central City Hospital in Novaya Kakhovka were discussed.
It was noted that the real implementation of the electronic medical reform in the Kherson region was ahead of many other regions of Ukraine.
After the meeting with the head of the region Borys Todurov took part in the working meeting of the chief physicians of medical institutions of the regional level under the chairmanship of Viktor Korolenko, Director of the Department of Health of Kherson Region.
Another important event was a round table on the introduction of reperfusion aid in the region.
Within the framework of the trip, the patients of the region with congenital and acquired heart diseases were examined by specialists from the Heart Institute – cardiologists, cardiac surgeons (adults and children) and specialists in ultrasound diagnostics.