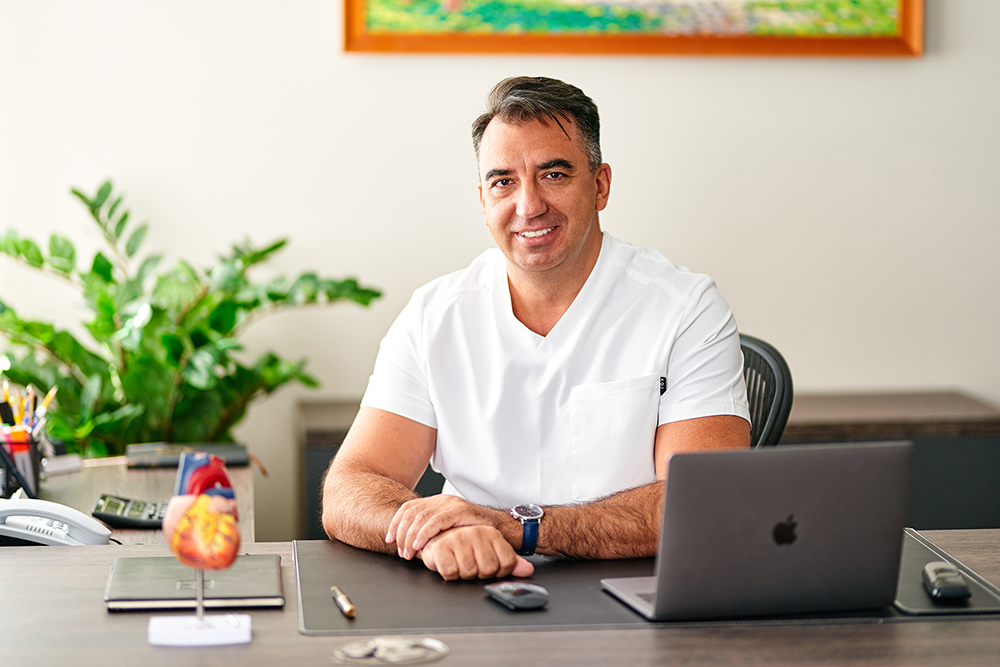 Oleksandr Mykolayovych Grytsay
head of department
It is 1000 high-tech operations annually
Ukraine's first and one of Eastern Europe's first implantations of the Medtronic Micra leadless pacemaker system weighing only 2 g and less than 1 cm3 in size
The most up-to-date system for arrhythmological operations CARTO 3 (Biosense Webster, USA) which designs a three-dimensional structure of the heart without X-rays that is helpful for achieving the best results in the treatment of the most complex arrhythmias
Individual selection of devices that are implanted according to the physiological characteristics of each patient
Diagnostics of all types of anti-arrhythmic devices
Cardiovascular diseases with disorders of rhythm and conduction of the heart (arrhythmias) significantly impair the quality of life and are life-threatening for patients both directly and in the form of complications (strokes, progression of heart failure, syncopal states).
Due to the rapid development of technology in recent decades, there is a unique opportunity for surgical treatment of most known disorders of rhythm and conduction of the heart.
Since 2007 the Heart Institute's department of cardiac surgery for the treatment of heart rhythm disorders performs a full range of diagnostic and therapeutic procedures for cardiac arrhythmias.
Our specialists at the department use diagnostic and treatment methods that harmoniously combine the use of state-of-the-art equipment and technologies with a careful attitude to the individual characteristics of each patient. We use the latest diagnostic methods to establish an accurate diagnosis and choose the most effective treatment in the shortest possible time. The department is designed for 20 beds in private and semi-private rooms.
In 2019 the equipment of the electrophysiological laboratory was upgraded. We have unique equipment in Ukraine which is used for invasive diagnostics of cardiac arrhythmias (electrophysiological study – EP STUDY) and treatment (radiofrequency ablation – RFA)) with the installation of the latest CARTO 3 system (Biosense Webster, USA) which can design a three-dimensional structure of the heart which helps to achieve the highest result in eliminating a number of the most complex arrhythmias.
In 2019 specialists of the State Institution "Heart Institute of the Ministry of Health of Ukraine" carried out Ukraine's first and one of Eastern Europe's first implantation of the most modern leadless pacemaker (a miniature pacemaker) Medtronic Micra, weighing only 2 grams and less than 1 cm3 in size, which was installed directly in the heart and does not require leads.
All images of MEDTRONIC MICRA pacemaker are reproduced with the official permission of MEDTRONIC company.