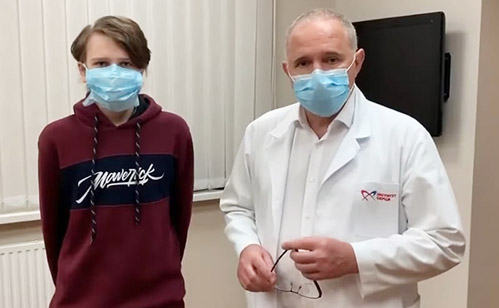 Yevgen Bystritsky – a 16-year-old boy who needs heart transplantation, is going to Belarus!
Many thanks to Borys Todurov, director of the Heart Institute, for assistance in resolving this urgent issue.
For three months, Yevgen and his mother were at the Heart Institute at the Organ and Tissue Transplantation Department under the constant supervision of doctors (the department head is Gavril Kovtun, the doctor in charge is Anna Melnik).
The planned implantation of a mechanical heart was actually postponed due to the inability to come for foreign proctors who must be present at such surgical interventions.
Time is running out, the quarantine is extended for an indefinite period, but Yevgen's heart cannot wait, therefore, unlimited gratitude to the Belarusian doctors who agreed to do the heart transplantation to the young man.
Special thanks to all concerned people, organizations, TV channels: Charity fund "Heart on the palm", IDonor: All-Ukrainian platform of donation and Irina Zaslavets, Ukrainian Charity Exchange, Vodafone Ukraine, TSN, Vikna-Novyny, "Concerns everyone" …, which helped to acquire a mechanical heart, which is already in the Heart Institute. It can save the life of the other recipient from the waiting list after the quarantine has been lifted.