HEART INSTITUTE IS THE FIRST HOSPITAL AMONG FORMER SOVIET UNION COUNTRIES TO RECEIVE INTERNATIONAL HEALTHCARE ACCREDITATION QHA TRENT
Kiev, Ukraine, May 22nd 2015.
After 3 year long preparation the Heart Institue (Health Ministry of Ukraine) is to recieve an international healthcare accreditation by QHA Trent (UK), which evens the ukrainian hospital to the top healthcare providers around the world.
"QHA-Trent is delighted that Kiev Heart Institute has achieved Associate Accreditation. This recognises the high quality of work carried out in the hospital which has met rigorous standards" – comments Professor Steven Green, Managing Director QHA Trent.
QHA-Trent is a completely independent UK based company, which delivers external and impartial verification of the standard of services within international healthcare facilities. It seeks to establish whether these establishments are genuinely safe and fit for purpose. It uses British based standards and medical and other professional expertise to assist and engage with organisations worldwide who are seeking a mark of approval of the standard of work carried out in the services, and as a way of further improving their services on a continuous basis.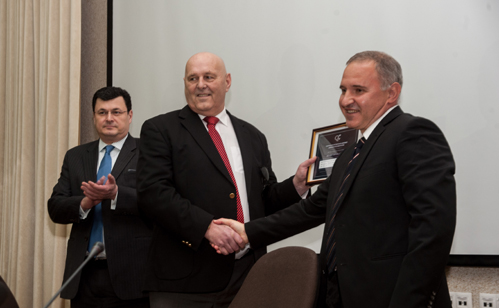 The standards cover all aspects of the hospital's services ensuring that policies and procedures are in place and that practice follows these; that staff are trained fully; audit is undertaken; that infection control is rigorous and that health and safety and risk management is robust. The standards cover the detail of all the different departments within the hospital and what happens in practice is examined.
"There was already a high standard of care at Kiev Heart Institute. All the staff lead by Dr. Todurov have worked very hard to achieve the QHA standards and have embraced our philosophy of continual improvement. We believe that the whole process has been helpful to the staff and patients of the hospital"- says Professor Steven Green.
«In its eurointegration aspirations Ukraine has made a very important step in healthcare by having QHA Trent accreditation» – comments Antony Wood healthcare consultant, who dedicated past 3 years to make this accreditation take place at the Heart Institute.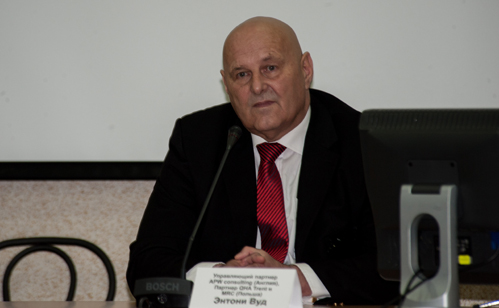 "Our main objective in pursuing the accreditation is to fulfill our teams general aspiration for continues professional development, to minimize the clinical and non clinical risks for our patients" –comments CEO of the hospital, Head Surgeon at Health Ministry of Ukraine, Member of National Academy of Medical Science of Ukraine, PhD, Honored MD of Ukraine Mr Todurov. "We have all chances to offer our services to the patients from all over the world as we observe the growth of cost of cardio surgery procedures in the US, EU and UK. At our hospital the most of most expensive procedures will be 3-5 times more affordable than in other countries. Last year only we have already treated 143 international patients, who addressed our hospital understanding that our services not only very affordable but also of highest international standards. We would like to become a first hospital in Ukraine to demonstrate the good investment climate in Ukrainian healthcare. We believe that our example will inspire other hospitals to follow us. Its not only matter of good investment opportunity but rather matter of prestige and patriotic aspirations and faith in our country – Ukraine".
Presentation of the certificate was attended by Alexander Kvitashvili, the Minister of Health of Ukraine, who welcomed the clinic staff to obtain international status.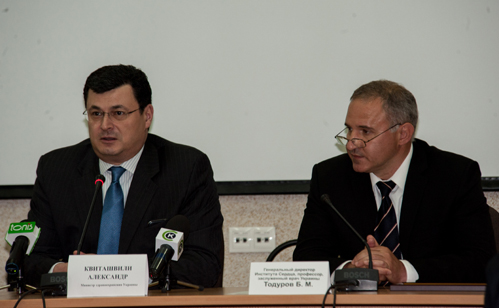 " In their quest for European integration, Ukraine has taken another big step in the field of healthcare, by receiving international recognition. Congratulations to the National Heart Institute with the passage of accreditation, because it is a recognition of all the great work, that the clinic has performed to the highest standards. We believe that this will support for development a new modern clinics in different regions of our country,i t's not just a question of successful investment in the Ukrainian medicine, but also prestige, patriotism, faith in Ukraine ", -said Alexander Kvitashvili.
Recently Heart Institute has developed programs of clinical experience exchange with oldest European hospital – the Vienna Medical University and other hospitals –the frontrunners in modern cardiosurgery. Heart Institute also becoming a very popular training ground for local cardiosurgeons within the country.
Today the medical tourism market is one of the fastet grwoing industries in the world which measured by 38,5-55 bln USD and around 11 millions of international patients last year. International healthcare accreditations are to make possible for local healthcare providers to become fully recognised players on the international market.