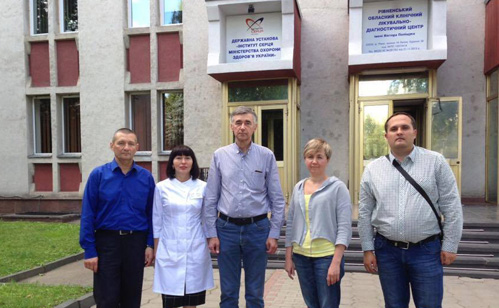 On July 7, 2017 a big team of specialists from the Heart Institute worked in Rivne: a head of the department of treatment of coronary heart disease Viktor Shevchenko, a doctor of functional diagnostics and echocardiography Oksana Krot, a child cardiac surgeon, assistant professor of cardiosurgery and interventional cardiology at the National Medical Academy of Postgraduate Education named after P. Shupik Vadim Sakalov, a sonography specialist, pediatrician Dmitry Garbuz. In a single day 130 patients were consulted, 88 of them were children. In addition, 27 patients were identified to have need of surgery in the near future, 66 patient need the dynamic monitoring of the state of the heart.
Metropolitan cardiovascular surgeons quarterly conduct a reception on the basis of the Rivne Regional Clinical Diagnostic Center named after V. Polishchuk. However, if necessary, such consultations can occur more often. To record admission patients should consult a local cardiologist. The patient are informed about a visit of the doctors of the Heart Institute in advance so that each patient can sign on time and get on a free reception to the leading specialists of Ukraine.
By the way, the permanent branch of the Heart Institute on the basis of the Rivne Diagnostic Center has been operating for more than a year. Specialists of the branch – cardiologists, doctors of functional diagnostics, pediatric cardiorheumatology – daily examine patients for cardiosurgical diseases, carry out postoperative care of operated patients, record for free consultations by the cardiac surgeons of the Heart Institute.