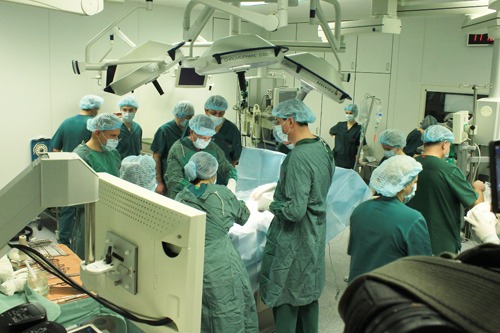 February 1, 2014 at the Institute of Heart the unique surgery was successfully performed– cesarean section of patient with pulmonary embolism at 34 weeks of gestation.
Tachycardia and air shortness has appeared to the 28-year-old woman before the forthcoming second birth. At first, she was hospitalized in the Berdyansk City Children's Hospital, and two days later was moved to the cardiac-surgery department of Zaporizhzhya's Regional Hospital. The investigation ( multislice CT ) was made here and the diagnosis of acute massive pulmonary embolism was confirmed. The pregnancy was complicated with Rh conflict that's why in early January the patient was hospitalized to the Kyiv Institute of Heart.
Given the very high risk of bleeding and early pregnancy (29-30 weeks), thrombolytic therapy ( clot dissolving ) and open-heart surgery were contraindicated. It was decided to deliver by Caesarean section to further define the treatment strategy in the case of labor activity or degradation of pregnancy.
The task for doctors was – to keep  pregnancy till the 34th week for the fetus enough developed. Almost for a monththe patient has been receiving a conservative therapy at the Institute of Heart to prevent the progression of thrombosis and for eventual resorption of existing clots.
Cesarean section was successfully performed by primarily obstetrician -gynecologist of Ministry of Health of Ukraine, Director of the Kyiv City Center for Reproductive and Perinatal Medicine Vyacheslav Kaminsky in the presence of teams of specialists: cardiac surgeons , neonatologists,cardiac anesthesiologists , cardiologists led by Chief Cardiac surgeon of Ministry of Health of Ukraine, Director of heart Institute of the Ministry of Health of Ukraine Boris Todurov.
After 5-6 days an operation for removing of blood clots from the pulmonary artery should be performed. According to Boris Todurov: " This operation is more serious with extracorporeal circulation with cardiac arrest, with interference with the pulmonary artery."