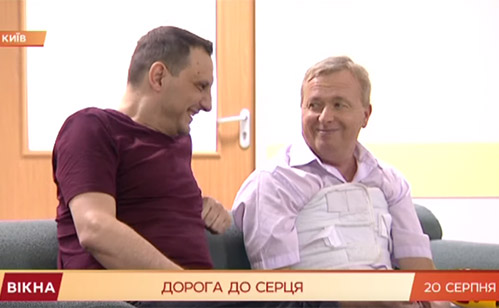 On August 15, 2019, two patients met at the Heart Institute during a routine examination, to both of them, Professor Borys Todurov implanted mechanical hearts in the fall of 2018 – 47-year-old Vasyl Pavlyuk from Ternopil region and 42-year-old Denis Volkov from Odesa. The implantation of mechanical heart saved both of them literally on the verge of life and death. The diagnosis of dilated cardiomyopathy then sounded like a verdict and there would have been just days to live if it were not for the skill of the team of Professor Todurov and German technology – the mechanical heart from Berlin Heart. Then Professor Todurov said: "Recently, such patients from the waiting list did not have a chance of survival … The fact that these patients are here, together with us is a small miracle that was performed by specialists of the Heart Institute and modern technologies."
In May this year, Vasily Pavlyuk received his new heart in Minsk and was already at home in June. At present, he feels great, and in all respects, his heart matches the heart of a healthy person. Denis Volkov lives with a mechanical heart, and we all hope that in the very near future he will also come from Belarus with a new heart.
The unique for Ukraine meeting of patients became the topic of a report on STB TV Channel, which can be seen here.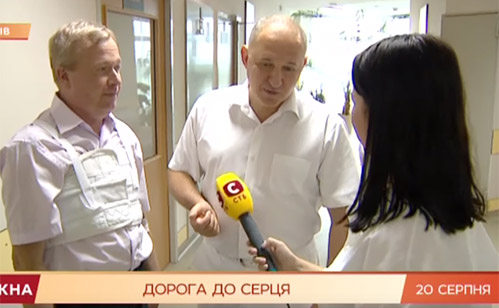 A mechanical heart is a "bridge" to subsequent heart transplantation, which, unfortunately, is not implemented in Ukraine due to legislative restrictions. Ukrainian patients have to go to Belarus for a heart transplant, where the cost of such an operation is about 100 thousand dollars. In Ukraine, this could cost several times cheaper, besides there are experience and technology for this here already.
Speaking to a reporter, Professor Todurov noted: "Ukraine has its own experience with heart transplants, but, unfortunately, due to the lack of a normal law, we have not performed them for many years." We must note here that the first successful heart transplant in Ukraine was made by Professor Todurov back in 2003!