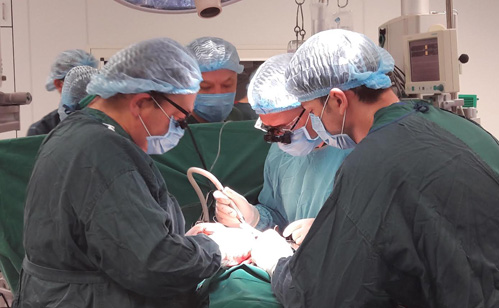 December 16, 2016. In Kiev, at the Heart Institute a workshop with the participation of Poland's leading heart surgeon Roman Pshibylskiy was held.
The master class was held in the framework of cooperation between the Silesian Center for Heart Disease and the Heart Institute. As part of the master class Dr. Roman Pshibylsky with the director of the Heart Institute Prof. Boris Todurov, performed two operations of aortic valve replacement on a biological valve which was made from the patient's own pericardium (Ozaki operation).
The advantage of this operation on the spread in Ukraine aortic valve replacement with a mechanical prosthesis is a better quality of life for patients in the postoperative period, also eliminating the need for lifelong use of antithrombotic drugs. In addition, the implementation of the operation of Ozaki will significantly reduce the cost of both-the conduct of the surgery and for the treatment of postoperative. Implementation of Ozaki operation in clinical practice in Ukraine will enable better medical care to thousands of patients in need.
After surgery Boris Todurov said: "The results are remarkable. New European technology saving the lives of Ukrainian patients. We continue to integrate the Ukrainian medicine in Europe."
For more information: Dr. Roman Pshibylskiy is the head of the adult cardiac surgery department of the Silesian Center for Heart Diseases (Zabzhe, Poland), one of the largest Polish cardiac clinics. He is a leading authority of his country for reconstructive surgery on the valves of the heart, as well as transplantation.