A 38-year-old man had a heart transplant last night in Zaporizhia. Prof. Borys Todurov took part in the surgery with a team of doctors from the Heart Institute – Gavryl Kovtun, Mykola Honcharenko, Vasyl Shmyrko, Inna Skrypka, and colleagues from Zaporizhia – Academician A. Nikonenko, doctors V. Osaulenko, S. Maksymenko. The operation lasted a total of about 7 hours. According to Prof. Borys Todurov, this was one of the most difficult transplants, because before that the patient underwent 2 heart surgeries and there were a lot of adhesions.
As of to date, the patient was taken by helicopter from Zaporizhia to the Heart Institute to the intensive care unit (headed by Ihor Kuzmych) for nursing. The patient is stable.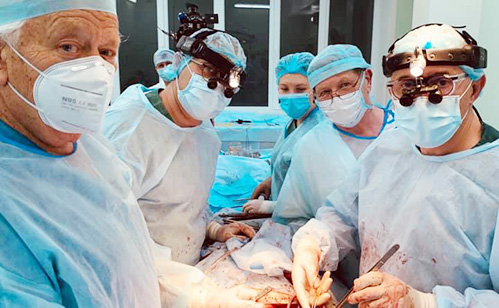 Many thanks to the State Emergency Service of Ukraine, the helicopter crew, and Anton Gerashchenko, Deputy Minister of Internal Affairs, for their support and assistance in organizing this transplant.
We thank the team of anesthesiologists, perfusionists, cardiologists, nurses, and paramedics for their teamwork during the operation.
We are grateful to the donor family for their generosity. For them, it was a very difficult and respectable act.
The history of transplantation continues.