Heart Institute introduces modern technologies of endovascular treatment of valve pathology!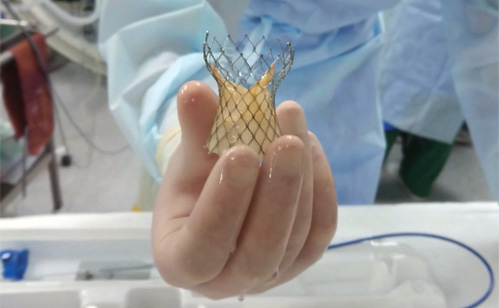 For the first time in Ukraine, two transfemoral implantations of the last generation aortic valve prosthesis have been performed at the Heart Institute of the Ministry of Health of Ukraine.
Due to this, the Heart Institute rescues patients with valve pathology, who previously were  refused surgery under different contraindications. Last year, also for the first time in Ukraine, successful transfemoral implantation procedures for mitral valve endoprostheses were performed.
At the beginning of the 21st century, the surgical treatment of heart valve pathology almost reached its ideal: the latest technology and materials used during operations reduced the risk of complications to almost statistical errors.
But there are quite large groups of patients that cannot be operated by traditional methods of open surgery due to the anatomy , complex and combined lesion of the valves and aorta, concomitant diseases, etc.
An alternative in this situation is the technology of endovascular implantation of aortic and mitral valve prostheses. The main advantage of such operations is that they are performed not through the incision of the chest, but through the puncture of the femoral artery. That is, thus avoiding a number of risks associated with an operational trauma, prolonged stopping of blood circulation, the risk of infection, etc.
Also, the duration of the procedure for endovascular implantation of the valvular prosthesis is significantly lower, and the duration of postoperative rehabilitation is also significantly less.
The patient, 75 years old, had a complex combined lesion of the aortic valve (a combined aortic defect with a predominance of  stenosis), a marked loss of ascending aortic calcinosis and a number of concomitant diseases, which combined risk the traditional operation to be extremely high. Endovascular implantation of the aortic valve was the only opportunity to save his life.
The latest technology has been applied in Ukraine!
Transfemoral implantations of the last generation aortic valve prosthesis