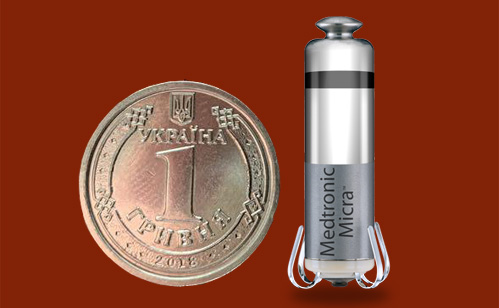 On February 20, 2019, for the first time in Ukraine, at the Heart Institute the endovascular implantation of the world's smallest pacemaker, Medtronic Micra was conducted. The device was implanted to a 61-year-old patient from the Vinnytsia region within the framework of the global clinical program of the Medtronic company. With the sone-tenthe tenth of a regular pacemaker (25 mm) weighing less than 2 grams (1.75 grams), the Micra pacemaker is delivered directly to the heart through a catheter inserted into the femoral vein. The pacemaker is securely attached to the heart wall and its location can be changed if necessary. The miniature device does not require the use of wires for connecting to the heart. Attached to the heart by small "teeth", the pacemaker generates electrical impulses, in response to which heart contraction is provided. The lifetime of a unique device is about 12 years.
"This miniature technology is designed to provide effective stimulation of the heart muscle with a minimally invasive approach, unlike traditional pacemakers," said the head of the the Cardiac Arrhythmias Department, M.D. Alexander Grytsay, who headed the implantation of the unique device, "We are proud that the Heart Institute has been selected among medical institutions with the highest level of medical service to participate in this global clinical program. Positive results can potentially benefit more than a million people in the world who are implanted with single-chamber pacemakers every year."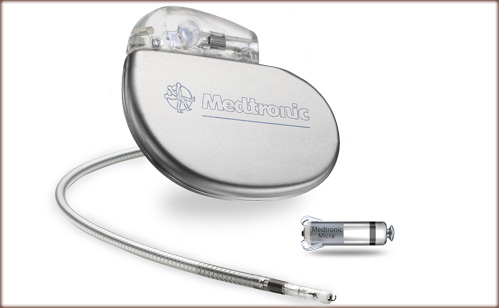 Unlike conventional pacemaker implantation procedures, the Micra implant does not require general anesthesia, surgical incision, and the creation of a "pocket" for the stimulator under the skin. This eliminates the potential source of complications and any visible signs of the presence of the device.
Moreover, a new pacemaker can save the lives of patients for whom the open surgical intervention is contraindicated. Also, patients with a pacemaker can go through MRI, unlike those with the usual pacemaker.
The picture on the left shows a comparison of the actual size of the new pacemaker Medtronic Micra with a usual modern pacemaker.
As noted by the Head of the Department of Cardiac Surgery, X-ray Endovascular and Extracorporeal Technologies of the National Academy of Postgraduate Education, MD, Professor Borys Todurov, Ukraine has become one of the three Eastern European countries (after Poland and Hungary) having this modern technology. Totally, this solution is available in 20 countries, now including Ukraine.