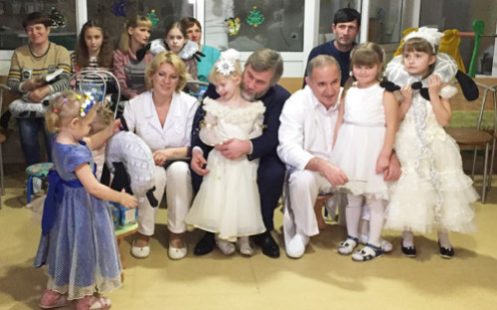 All are looking forward to the New Year holidays, children in particular. These fabulous events begin with St. Nicholas Day. At home, the kids are waiting for a sweet present under the pillow, warm Mom's embraces, and fairy tales. And in the morning – joyful eyes and a gift pressed to his or her chest. How wonderful it is! And if you are in the hospital, and your mother at this time worries only about your health, to run after a sweet gift and make an unexpected holiday – she might have neither strength nor opportunity. But dreams should come true. Especially the most cherished. And so the holiday of St. Nicholas came to the children's department of the Heart Institute: merry clowns with their boiling energy and jokes, skits and games; a bright show of soap bubbles, and then St. Nicholas himself with an angel and Christmas hare came to congratulate the kids with the holiday and reward them for good behavior, success in school, and most of all, wish much, much health. They went to every ward, talked to every little patient and his parents, and the Angel and the Bunny gave sweet presents and invited them to dance at the Christmas tree. It was very sincere and joyful. Among our guests (Charity fund "Heart on a Palm") was President the International Charity Fund in honor of the Protection of the Holy Virgin,  People's Deputy of Ukraine, Vadim Novinsky. The children received beautiful sweet sets and soft toys. In addition, the children's department of the Heart Institute received a certificate for 3 million hryvnas to save children's hearts in 2018. We express our deep gratitude to the International Charity Fund of Vadim Novinsky in honor of the Protection of the Blessed Virgin Mary!
We would like to thank the National Committee of "Miss Ukraine" for the bright and unusual show of soap bubbles. We thank the company Eurocar for the beautiful clowns, the agency of children's holidays "Blagodom" for organizing a wonderful holiday; for incredibly delicious sweets: the company "Empire of Sweets", the company "Good Wine" for gingerbread men.
Thank you all, our good wizards, for the desire and ability to create and give help and joy!