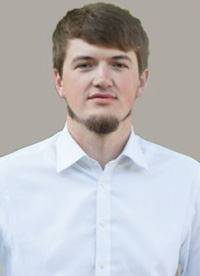 Anesthesiologist
Senior Researcher of the Department of Cardioradiology, State Institution "НІ MH of Ukraine"
Member of the European Society of Anesthesiology and the European Board for Cardiovascular Perfusion.
Graduated from Danylo Halytsky Lviv National Medical University in 2016.
From 2016 to 2018 – passed an internship in the specialty "anesthesiology and intensive care" at the P.L. Shupyk National Medical Academy of Postgraduate Education.
In 2018 – completed a six-month training at perfusionology school under the auspices of the European Board of Cardiovascular Perfusion with a European diploma in perfusiology.
Since 2018 – PhD student of the Department of Anesthesiology and Intensive Care of the P.L. Shupyk National Medical Academy of Postgraduate Education. The theme of the scientific work: "The choice of the optimal scheme of anesthetic management and the level of hypothermia in patients with coronary artery disease during coronary artery bypass grafting with cardiopulmonary bypass."
Since 2018 – Senior Researcher, Department of Cardioradiology, State Institution "HI MH of Ukraine".
 Professional achievements and titles
Experience of conducting extracorporeal methods of therapy: cardiopulmonary bypass during cardiac surgery in adults and children on Terumo System 1, Mequet HL20 devices; extracorporeal membrane oxygenation using Maquet and Terumo consoles, hardware hemodialysis on Fresenius 5008S and Fresenius 4008S devices, autohemotransfusion on Fresenius C.A.T.S devices and autoLog Autotransfusion System, Medtronic.
The employee studies such topical issues as features of cerebral blood flow in patients with hypertension during CPB, assessment of systemic inflammatory response and ways to reduce it during perfusion, study the effectiveness of ECMO in myocardial revascularization in patients with acute coronary syndrome and cardiogenic shock.
Author of 34 scientific papers, including 8 articles in Web of Science and Scopus and 2 patents of Ukraine.