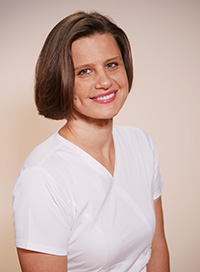 Researcher of the Department of Anesthesiology and Extracorporeal Treatment Methods.
Doctor of functional diagnostics and echocardiography of the highest category, cardiologist, PhD. Member of the European Echocardiography Association. Member of the All-Ukrainian Association of Specialists in Cardiothoracic, Endovascular Surgery and Transplantology.
In 2001 she graduated from the Bukovinian State Medical Academy (Chernivtsi), Medical Faculty.
From 2007 to present she works at the State Institution "Heart Institute of the Ministry of Health of Ukraine"
Since 2013 – Assistant Professor of Functional Diagnostics of the National Medical Academy of Postgraduate Education, PL Shupik.
Since 2018 – Department of Diagnosis of Heart Diseases and Trunk Blood vessels of the State Institutions "Heart Institute of the Ministry of Health of Ukraine".
She defended her dissertation on " The changes in the structural and functional state of the myocardium in patients with aortic stenosis and reduced left ventricular ejection fraction after aortic valve replacement."
Has techniques:
⦁ transthoracic echocardiography for adults and children
⦁ esophageal echocardiography, three-dimensional echocardiography
⦁ stress-echocardiography
⦁ electrocardiography
Works on ultrasonic systems manufactured by Philips, Toshiba, Siemens, GeneralElectric. Annually consults more than 5000-6000 patients. Conducts on-site consultations in all regions of Ukraine. Participates in scientific and practical Ukrainian and international seminars and conferences.
She did internships at Vilnius University Hospital Santaros Klinikos (Vilnius, Lithuania), Academic Clinic of the University of Leipzig Helios Park-Clinic (Leipzig, Germany), Silesian Heart Center (Zabrze, Poland).
Took an active part in the ECHO Meeting 2023 (Istanbul, Turkey).
Author and co-author of numerous publications in scientific journals, including international ones.
Participation in research:
⦁ Clinical study of the possibility of using the HighLife mitral valve transcatheter prosthesis system for patients with severe mitral regurgitation.
⦁ Clinical study on the use of VisVan for patients with heart failure.