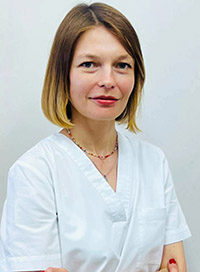 Сardiologist, MD, PhD
2009 – graduated from Bogomolets National Medical University, Kiev, Ukraine.
Internsheep in therapeutics department of Kyiv Municipal Hospital № 6.
2013 – specialization in cardiology at Shupyk National Medical Academy of Postgraduate Education.
2013-2019 – Research fellow at Heart Failure department, State Institution National scientific center "The M. D. Strazhesko Institute of Cardiology" National Academy of Medical Sciences of Ukraine.
2019 – PhD "Clinical and prognostic meaning of cognitive function status in chronic heart failure with reduced left ventricular ejection fraction"
2019- cardiologist at Diagnostic Consultancy outpatient department for adults State Institution "The Heart Institute Ministry of Health of Ukraine"
Training courses: "Doppler echocardiography", "Clinical ECG".
Participation in Ukrainian and international congresses and conferences (Austria, Greece, France, Spain)
Membership in Association of Cardiologists of Ukraine, European Society of Cardiology, European Association of Heart Failure.
Author and co-author of 35 publications, 2 patents.