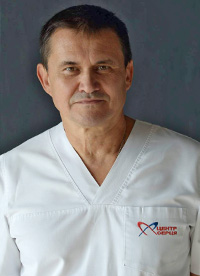 Anesthesiologist of the department of artificial circulation and extracorporeal methods of treatment.
Is an a member of the European Platform for Cardiovascular Perfusion.
In 1984 he graduated from the M. Gorky Donetsk State Medical Institute.
1992 to 1994 studied in clinical residency at the Research Institute of Cardiovascular Surgery (Kiev), specializing in anesthesiology. After graduation, he worked in the departments of cardio and X-ray endovascular surgery of the Institute of Emergency and Reconstructive Surgery (Donetsk) and DOCTMO.
Since 2014 – works at the State Institution Heart Institute of the Ministry of Health of Ukraine.
Anesthesiologist of the highest certification category.
Completed an internship in clinics in Slovakia, Poland, Russia.
In 2019 he received a European diploma issued by the European Board of Cardiovascular Perfusion (EBCP)
Owns the techniques:
Providing artificial blood circulation during cardiac surgery of any level of complexity in adults and children.
Extracorporeal life support (ESMO) in patients with severe cardiovascular and respiratory failure.
Extracorporeal methods of hemocorrection (ultrafiltration, hemodialysis, cascade plasmapheresis, hemodiafiltration)