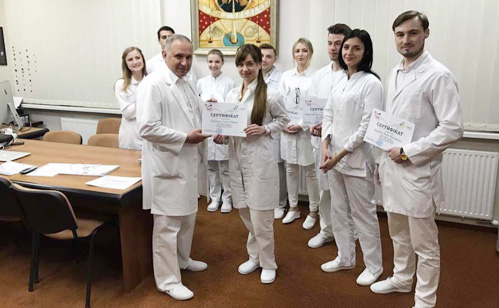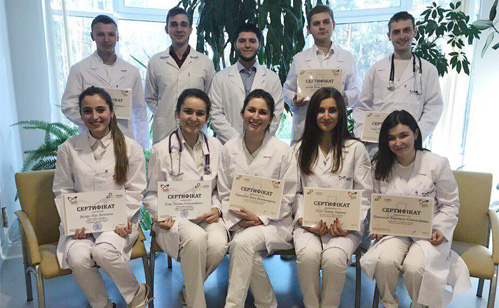 From March 20 to April 21, 2017, the All-Ukrainian project UAMED Internship was held. An internship was organized by the Ukrainian Association of Specialists in the Development of Medical Education (UAMED), in cooperation with the "Heart Institute" of the Ministry of Health of Ukraine. Organizational support was provided the charity fund " Heart on the palm "and the pharmaceutical company" Sanofi".
The best 45 medical students and interns (the best three students/interns from each university) from different regions of Ukraine underwent a week internship at the Heart Institute. Selection of participants was based on testing results (25 points), questionnaire evaluation and motivation letters (15 points).
The test system was developed by the specialists of the Heart Institute.
The internship was completely free for each participant.
Participants of the internship partook in the surgeries, received practical experience in the departments of intensive care, endovascular surgery and angiography, anesthesiology, myocardial pathology and organ and tissue transplantation, the department for the treatment of coronary heart disease and the consultative and diagnostic department, which allowed students to determine their future professional directions.
On April 21, Borys Todurov, director of the Heart Institute, presented the participants with certificates of internship, congratulated them and said: "I hope that a visit to our clinic will give you the opportunity to expand your imagination about modern medicine and master new skills."
According to participants of the internship, all were satisfied, received invaluable experience and expressed great gratitude to Borys Todurov, the organizers of the project, and to all the doctors who shared their experience.