On February, 10-11, four students from the Warsaw medical university had onsite training at Kiev Heart Institute.
The guests from Poland got the possibility to visit procedures of coronary artery bypass, mitral and aortic valves plasty, pulmonary artery thrombectomy, familiarized with the special aspects of anesthesia and intensive care for cardiac surgical patients, visited the MRI department.
The students got bright impressions and practical knowledge, they expressed many thanks for friendly reception in the Institute and in Ukraine in general.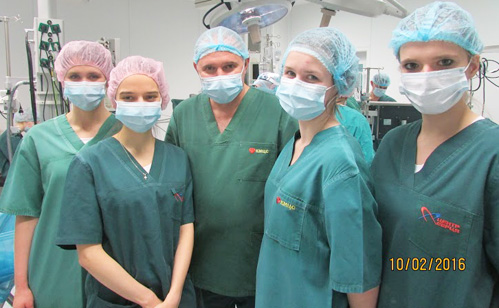 This student exchange was organized by the International federation of the associations of the medical students in Ukraine (FMSA).
The President of Ukrainian medical students association (UMSA), Garik Melkumyan, thanks to Boris Todurov, the General Director of Kiev Heart Institute, for this possibility for Polish students to acknowledge with the issues of cardiac surgery in Ukraine and voices a hope to continue cooperation in this field.