The 3rd International Conference "Reconstructive Heart Surgery", co-sponsored by the Heart Institute, was held with great success at the Hyatt Regency Hotel in Kyiv on October 24-25, 2019. This Conference became an outstanding event not only for the Ukrainian but also for International cardiac surgery, having united 24 prominent cardiac surgeons with a unique experience from Canada, USA, European Union, Belarus, Georgia, Kazakhstan, Moldova, Turkey, Japan, Azerbaijan at one site. For two days, legends of the world and national surgery have worked together and communicated with the audience – "thanks to this conference, for two days, Kyiv has become an international cardiac surgery center." The full conference program and speakers can be found here.
The honorary guest of the conference was Professor of the University of Toronto Dr. Tirone David, whose name is forever etched in the world of cardiac surgery due to his developed valve-saving surgery for the treatment of ascending aortic aneurysm.
Our domestic developments and new advanced surgical techniques conducted at the Heart Institute under the guidance of Professor Borys Todurov made an exciting impression. In particular, Ozaki's unparalleled procedures are routinely performed here, with the best European results.
As Professor Afksendiyos Kalangos, Chairman of the Kalangos Foundation, one of the co-organizers of the Conference, noted:
"The third edition of « Reconstructive Heart Surgery meeting » was a real success especially by the presence of Prof Tirone David and many other international faculty members. The panel discussion I have chaired …, permitted us to collect the opinions of cardiac surgeons and interventional cardiologists about TAVI, David procedure, Ross surgery and the training issues of our young colleagues in cardiac surgery. We thank Prof Borys Todurov, director of Heart Institute Kyiv, and his team members for their outstanding efforts and hospitality. Kalangos Foundation, as co-organizer of these meetings, will always support them in their scientific openings."
Below are some photos from the Conference.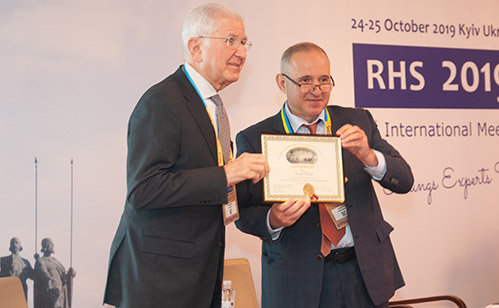 Professor Borys Todurov (right) presents Professor Tirone David (left) with a diploma of a member of the Ukrainian Association of Cardiothoracic, Endovascular Surgery and Transplantation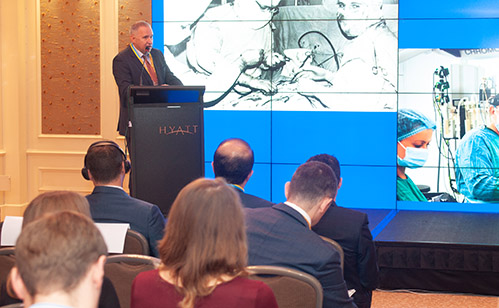 Professor Borys Todurov reports on the achievements of the Heart Institute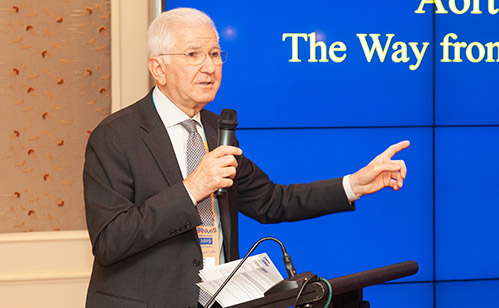 Professor Tirone David shares his unique experience with the audience
Professor Afksendiyos Kalangos presides over the first day of the conference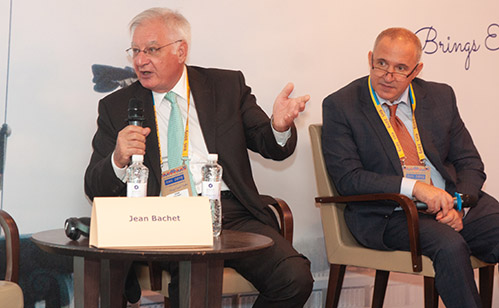 Professor Jean Bachet (left) from France takes part in the discussion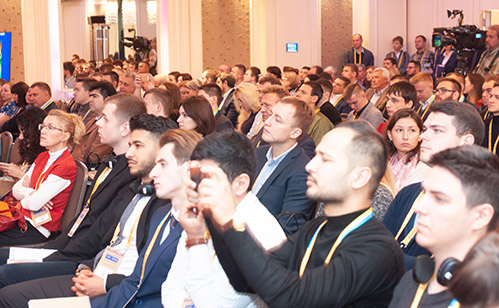 In the conference hall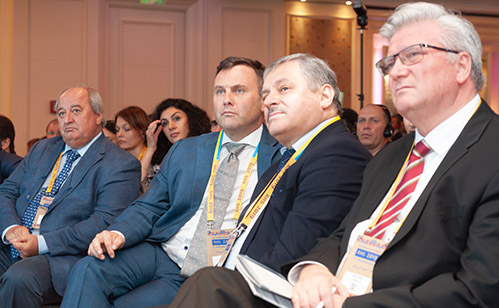 Cardiac surgery stars – in the front row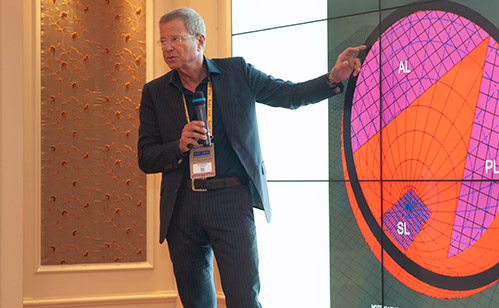 Professor Rudger Lange from Munich reports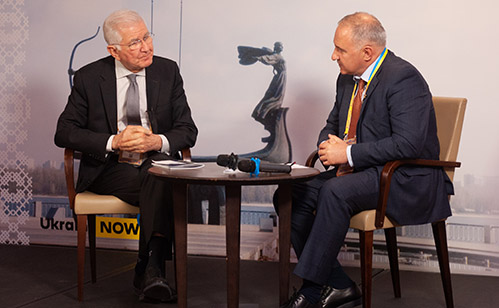 Professor Borys Todurov talks with the legendary Professor Tirone David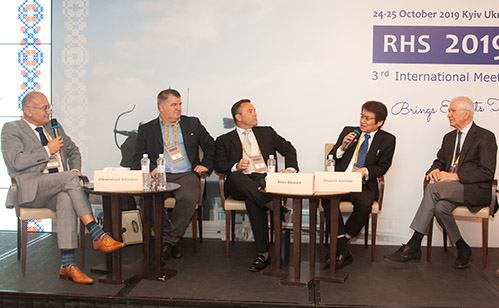 Active panel discussion. Professor Masashi Komeda from Japan speaks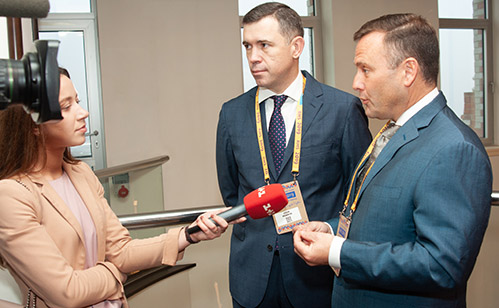 Dr. Allan Stewart (right) from the USA and Head of Department of the Heart Institute, Dr. Igor Mokryk, during a media interview at the conference
Professor Borys Todurov (right) and leading heart transplant specialist Professor Yuri Ostrovskiy from Belarus communicate during the conference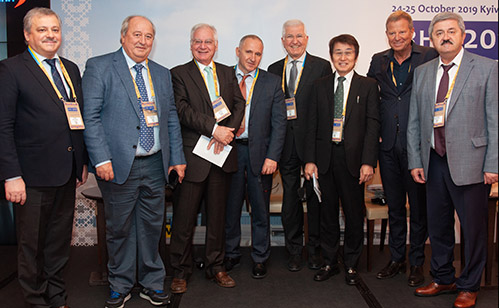 Eight prominent cardiac surgeons in one photo.