17-18 November 2016 was held the VIII scientific-practical conference "Days of arrhythmology in Kiev." The organizers of this annual event were the Heart Institute of Ministry of Health of Ukraine and the National Medical Academy of Postgraduate Education named after P.L. Shupyk.
The purpose of the forum was to familiarize cardiologists, doctors of functional diagnostics, cardiac surgeons with modern methods of diagnostics and interventional treatment of cardiac arrhythmias. The conference was attended by more than 200 practitioners from several regions of Ukraine.
The greetings to the participants of the conference were made by the General Director  of the Heart Institute, a corresponding member of NAMS of Ukraine, Professor Boris Todurov and vice-rector for research and educational and medical work NMAPE named after  P.L. Shupyk, Professor R.A. Moiseenko. The presentations at the plenary session were made by the arrhythmologists of the leading interventional clinics and research institutions of Ukraine Y.I. Karpenko (Odessa), V.P. Zalewski, Alexander Gritsay and B.B. Kravchuk (Kiev), D.E. Volkov (Kharkiv), A.V. Yagensky (Lutsk), and others.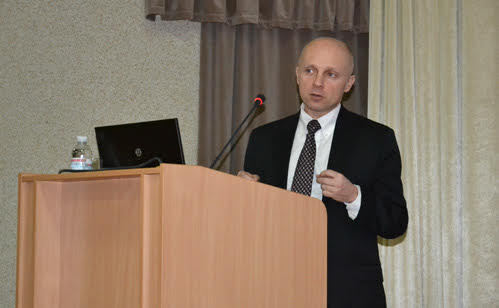 Head of the department of functional diagnostics prof. Oleg Zharinov and assistant professor Victor Kutz conducted workshops on the diagnosis and management of patients with ventricular tachycardia and binodal heart disease. During the conference a symposium-"Antithrombotic therapy in patients with atrial fibrillation" was held, where aspects of the use of anticoagulants in patients with paroxysmal atrial fibrillation, in patients carrying out the cardioversion, catheter ablation, in patients with renal insufficiency were discussed.
Particular attention of the audience was attracted by special multidisciplinary symposium "Pharmacotherapy maintenance and complications of cardiac surgery" involving cardiac surgeons, cardiologists, anesthesiologists, pulmonologists, physicians functional diagnostics, carried out with the support of the company "Darnitsa". It was attended by the Head of the Department of Cardiac Surgery, endovascular and extracorporeal techniques Boris Todurov, Head of the Department of Anesthesiology and Intensive Care Oleg Loskutov, visiting professors E.P. Svischenko (Kiev), Yuri Bridge (Vinnitsa) and A.A. Tarabrin (Odessa).
Forum traditionally was one of the most significant events of the year in the field of diagnosis and treatment of cardiac arrhythmias.