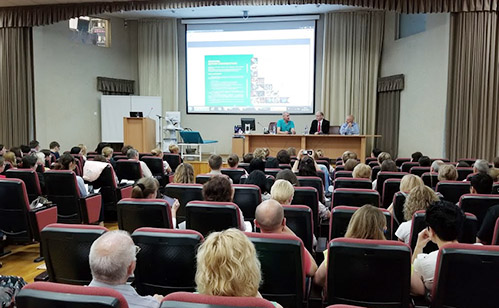 On June 1, 2019, the Ukrainian-French Scientific and Practical Workshop on Doppler-Echocardiographic Diagnostics "The Generalized Systemic Echo-Tomography of the Heart. Identification of the main anatomical structures" was held at the Heart Institute. The workshop was organized under the auspices of the Heart Institute and the Department of Functional Diagnostics of the P. Shupyk National Medical Academy of Postgraduate Education with the assistance of the French Embassy in Ukraine.
The main purpose of the Workshop was to train physicians to use international guidelines for echocardiographic visualization of the heart. The main speaker at the seminar was our compatriot, a doctor of the George Pompidou European Hospital (Paris), MD Mykola Miroshnik.
About 200 participants had been registered for the workshop – doctors of various specialties, including students studying in the cycle of thematic improvement "Echocardiography" at the department of functional diagnostics. The participants of the workshop listened to an intensive lecture course and were able to directly observe the patient examination on the display of the large conference hall of the Heart Institute.
The participants of the workshop were greeted by the Head of the department of functional diagnostics Oleg Zharinov and the attache on scientific and university cooperation of the French Embassy in Ukraine, Sylvain Rigole. Within the framework of the workshop, presentation of the textbook of Mykola Miroshnik "Practical Doppler-Echocardiography" took place.