"Thanks to the efforts of a team of researchers from the Heart Institute, we conducted the world's first implantation of the Visone system we have developed and we intend to further demonstrate the benefits of asymptomatic  diaphragm stimulation (ADS) in patients with heart failure and lowered ejection fraction," President and Chief Executive Officer of VisCardia Inc. Peter Bauer underlined in a report on the XIX national Congress of cardiologists of Ukraine, held in Kyiv on September 26-28.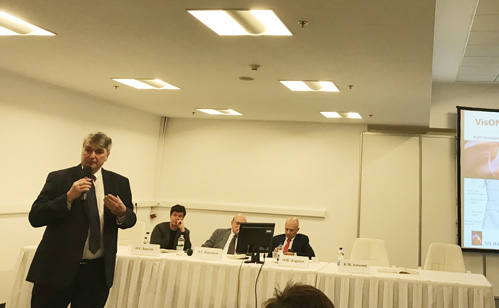 On July 25, 2018, the world's first implantation of Visone® system produced by a medical developer VisCardia Inc. was carried out at the Kyiv Heart Institute in clinical conditions. Thus, the start of an important pilot study of the Visone Heart Failure Study in Ukraine on the use of devices for the treatment of patients with heart failure was commenced.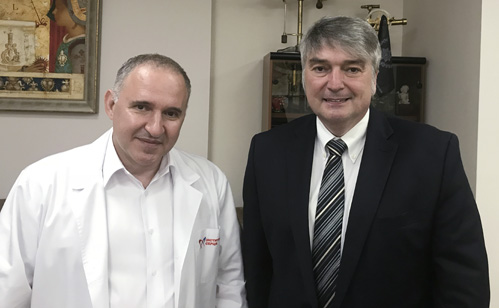 General Director of the Heart Institute Borys Todurov (left) and President and chief executive officer of VisCardia Inc. Peter Bauer
Implantation was performed under the direction of General Director of the Heart Institute, Professor Borys Todurov and Chief Researcher of the project Doctor of Medicine Vitaliy Demianchuk.
In the 53-year-old patient with a left ventricular ejection fraction lowered to 17%, symptomatic heart failure was observed, despite the optimally chosen regimen of drug therapy. The lack of proper outcome from the treatment on the one hand and from alternative therapies on the other dictated the use of the Visone® system.
The surgeon, the doctor of medicine Alexander Plegutz, who performed laparoscopic implantation, emphasized: "The practicality and feasibility of this new and minimally invasive approach reduce the time of the procedure, which is especially important for patients with heart failure. This allows them to recover more quickly than previously applied medical practices allowed. " The implanted system is equipped with an electrical pulse generator, which provides asymptomatic diaphragm stimulation (ADS) to improve the function of the heart. "Our preclinical studies have shown that ADS improves acute hemodynamic parameters and left ventricular ejection fraction, remaining asymptomatic and devoid of side effects by the technique.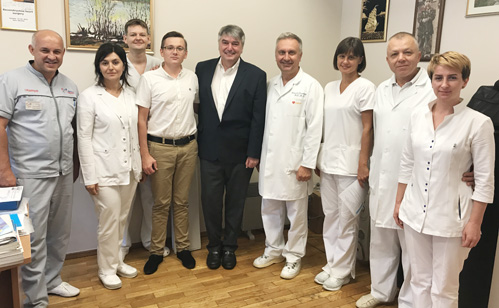 The research team at the Visone Heart Failure Study project (NCT03484780) (from left to right):
Igor Kuzmich, Oksana Pantazi, Eugene Zhytynsky, Alexander Plehutz, Peter Bauer, Vitaliy Demyanchuk, Natalia Ponich, Mykola Goncharenko, Oksana Davydchuk.
"We are very pleased that this innovative therapy approach will help patients who were previously doomed. Our Institute will actively and scrupulously study the effect of this method on heart failure, "said General Director of the Heart Institute Professor Borys Todurov.