On September 15, doctors of the Heart Institute visited Rivne patients as part of an on-site consultation which took place on the basis of the Rivne Regional Clinical Medical and Diagnostic Center and Rivne branch of the Heart Institute. 121 patients were consulted (77 children and 44 adults). 27 of them required surgical intervention.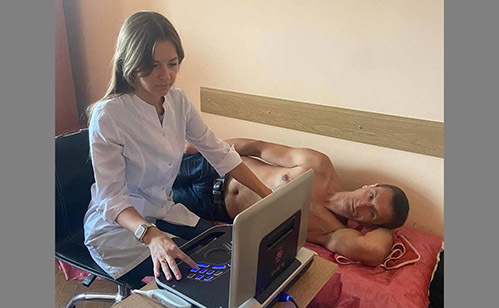 For more than 10 years, the Heart Institute has been closely cooperating with colleagues from Rivne. During this time, almost 4,000 patients with cardiovascular system problems were consulted, and more than 1,000 people were operated.
The team of the Heart Institute:
Vasyl Karpenko, head of the Department of Congenital Heart Defects, Cardiovascular Surgeon, Honored Doctor of Ukraine
Natalia Ruban, pediatric cardiologist, ultrasound specialist Viktor Shevchenko, Head of the Department for the Treatment of Ischemic Heart Disease, cardiovascular surgeon, honored doctor of Ukraine, and Oksana Stan, doctor of functional diagnostics.