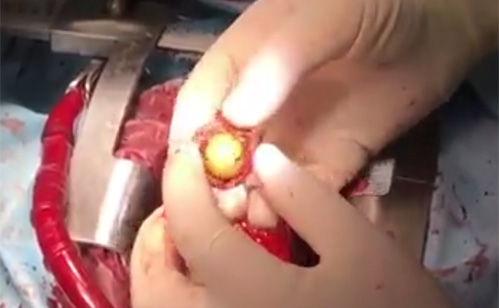 On July 5, 2018, a surgery of aortic valve replacement was conducted on a 45-year-old woman by Professor Borys Todurov at the Heart Institute. The cardiac surgeon, associate professor O. Zelenchuk, cardiac surgeon N. Gnoyanko, anesthesiologist L. Maksimenko, perfusionist S. Sudakevich took part in the surgery.
At the age of 16 the patient was diagnosed with an infective endocarditis of the aortic valve and in 1989 she was successfully operated by Professor A. Rudenko. At that time a ball prosthesis of the aortic valve was implanted, which successfully worked for 29 years. It was found out at the surgery, that if it had not been for pannus formation, the prosthesis could have served further. Because of the pannus, the patient had a high-pressure gradient on the prosthesis and a clinical presentation of stenosis of the aortic valve appeared.
The surgery was completed successfully. Despite the technical difficulties of removing the old prosthesis – in almost 30 years the cuff of the prosthesis has grown tightly into the surrounding tissues – a new bicuspid aortic valve prosthesis (St. Jude Medical) was implanted.. At the moment the patient is in the intensive care unit, her condition is stable, she's been extubated. Now the patient has the rehabilitation process ahead and a new life without the symptoms of the disease.