Minimally invasive access surgeries are one of the most actively developing areas of cardiac surgery.
Thanks to such techniques, patients get a chance for quick and complete rehabilitation.
Aortic valve prosthetics with ministerotomy, when the sternum is partially but not completely separated, have long been part of the daily clinical practice of the Institute.
Prosthetics of the minitoracotomy valve in the second intercostal space is the next step, because the bony skeleton of the thorax is not affected, only soft tissues are distributed. The wound heals fairly quickly, and the time of postoperative recovery is minimized.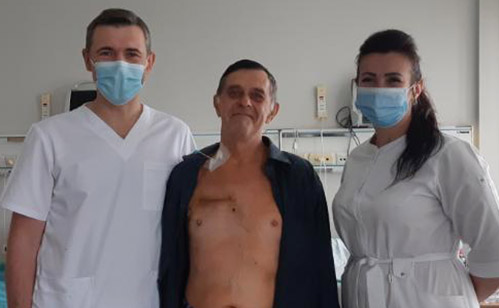 Recently, our doctors performed an aortic valve prosthesis for a 61-year-old patient with a minitoracotomy. This heart surgery is performed without disturbing the bony skeleton of the thorax, and the patient is quickly rehabilitating and is already preparing for discharge.
In the photo, the patient is on the 4th day after surgery.
Team Heart Institute of the Ministry of Health of Ukraine:
Head of the Department of Acquired Heart Defects Igor Mokryk (on the left in the photo), Volodymyr Pogrebnyak, Mykola Honcharenko, Oleksandr Kiryaev. Cardiologist – Elena Fedorenko.