For the first time in Ukraine, a 6-year-old child underwent a heart transplant at the Heart Institute.
A 6-year-old girl received a new heart. The operation went smoothly. The girl feels well.
The transplant was performed by a cardiac surgeon, the Director of the Heart Institute, Prof. Borys Todurov, together with the Institute's team of doctors.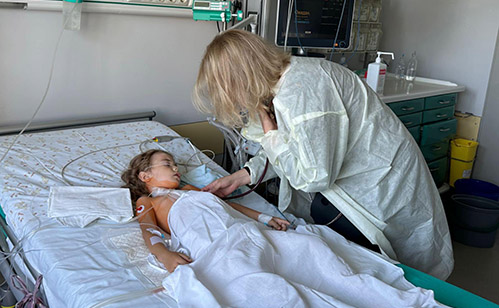 The donor was a 4-year-old boy whose parents consented to the transplant.
In the photo, you see a mother who came to listen to her child's heart beating in the breast of another child.
The Heart Institute's team:
Prof. Borys Todurov, Gavrylo Kovtun, Sofia Chaikovska, Vasyl Karpenko, Oleg Loskutov, Serhiy Sudakevych, Volodymyr Vashkeba, Vadym Sakalov, Igor Khomenko, Yevhen Krishtof, Alla Kolch, Ruslana Kireichikova, Tetyana Kropyvko, Maria Ternuschak, Iryna Grynchenko, Natalia Karpuk, Iryna Konyushok .
Transplant coordinator: cardiologist Anna Melnyk.