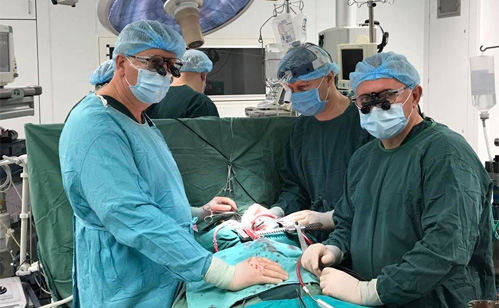 December 8, 2016 at the Herat Institute CEO of Heart Institute cardiac surgeon Boris Todurov and director of Kaunas University Hospital cardiac surgeon Rimantas Benetis with the team of specialists of Heart Institute conducted a unique operation – 38-year-old patient with a fatal diagnosis "aortic aneurysm" replaced the largest vessel and made the aortic reconstruction of valve.
Lithuanian professor Rimantas Benetis specially arrived in Kiev to share his method of operating of the said heart disease. The operation was complicated yet successful – damaged patient's aortic valve could be reconstructed, not replaced with prosthesis. The difficulty lies in the fact that during the operation, taking into account the state of the patient's heart vessels the surgeons had to change the technique – instead of "David operation", it was decided to make a "Yakub operation" with which an international team of experts has coped perfectly well.
Without exaggeration, Ukrainian-Lithuanian team of cardiac surgeons saved the life of a young woman after aortic aneurysm (one of the common causes of sudden death).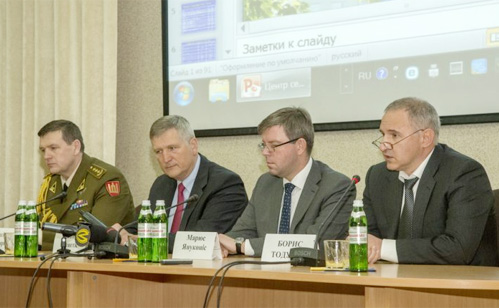 On the same day a press conference dedicated to the unique operation and the Lithuanian-Ukrainian cooperation with Professor Rimantas Benetis, authorized Ambassador of the Republic of Lithuania Maryusa Yanukonis, Attaché Military Algirdas Norkus, Director of Heart Institute Professor Boris Todurov was held in the Heart Institute.
During the press conference, Boris Todurov noted that work at the same operating table with the Lithuanian colleagues – means a lot for Ukrainian cardiac surgeons.
"The arrival of Lithuanian doctors is not a usual visit. Today it is a symbol of friendly relations, which are strengthened, because our countries have many common interests in economic, political, healthcare areas. But the most important is the relationship between people and doctors. Today's operation practically makes us a family. We want to develop these relations in different directions.
During the war, not so many real friends of Ukraine are ready to help. Lithuania and Poland help us and our volunteers in these difficult times. A trip of Ukrainian cardiac surgeons in Kaunas and Vilnius is already planned, the two groups will travel for training in January 2017, the tickets have been booked already", – said the director of the Heart Institute.