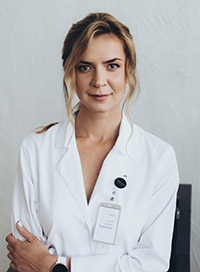 Obstetrician-gynecologist, doctor of ultrasound diagnostics, Doctor – researcher
2015 – graduated from the O.O.Bogomolets National Medical University
2015 – 2018 Postgraduate education at Shupyk National Healthcare University of Ukraine based in Kyiv City Maternity Hospital No. 1 at the Department of Obstetrics, Gynecology and Perinatology.
2018 – Acquired specialization "ultrasound diagnostics" at P.L. Shupyk National Medical Academy of Postgraduate Education (NMAPE)
Application of modern methods and practices of diagnosis and treatment of gynaecological diseases.
Regular participant in scientific and practical conferences, congresses.
Treatment of diseases:
– Treatment of inflammatory diseases of the reproductive system organs
– Treatment of menstrual disorders
– Treatment of menopausal disorders
– Determination of the risks of oncological diseases of the female reproductive system
– Selection of contraception
– Treatment of endometriosis, uterine fibroids, ovarian cysts
– Surgical and medical treatment of endometrial pathology