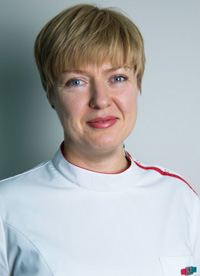 MD, PhD
Senior Cardiologist Consultant and Clinical Researcher
Diagnostic Department of Cardiovascular Pathology
Education:
2000 – Medical Doctor (Medicine), Donetsk State Medical University, Ukraine.
2000-2002 – Clinical internship in "general practice and family medicine", Main Military Clinical Hospital of the Ministry of Defense of Ukraine.
2003-2008 – Clinical residency and doctoral research at the Strazhesko National Institute of Cardiology, Kyiv, Ukraine.
2009 – Defended PhD dissertation "Remodeling and dynamics of the systolic function of the left chambers of the heart and the clinical and functional state of patients with cardiomegaly and chronic heart failure with long-term syndromic pharmacotherapy".
2014 – "Cardiologist of the highest class" qualification.
From 2014 – Senior cardiologist consultant at the Diagnostics department No. 1 for adults, Heart Institute of the Ministry of Health of Ukraine.
From 2016 – Senior clinical researcher at the department of diagnostics of cardiovascular pathology of the Heart Institute of the Ministry of Health of Ukraine.
Dr Olena Onyshchenko possesses significant experience in the diagnostic assessment and examination of cardiac patients: ECG; tests with dosed physical load (cycle ergometry, treadmill test) on the cycle ergometer "Corival", "Angio", treadmill "Valiant" (Netherlands); Holter monitor tests ("Cardiospy", "DiaCard", "ECG pro"); 24-h blood pressure monitoring.
Main areas of expertise – diagnostic assessment and treatment of:
Chronic heart failure
Cardiomyopathy and myocarditis
Ischemic heart disease and its complications
Congenital and acquired heart defects
Arterial hypertension
Violations of heart rhythm and conduction
Heart rhythm and conduction disorders
Dr Onyshchenko regularly attends medical conferences and innovative treatment workshops at European university clinics (Croatia, Latvia, Ukraine). She is an active participant of the professional training programmes at Shupik National Medical Academy of Post-Graduate Education of Ukraine.
Dr Olena Onyshchenko has published 29 research papers, and currently holds 2 patents. She regularly attends and presents at research and clinical conferences, and has been involved in the development of the methodological recommendations for the diagnosis and treatment of myocarditis.