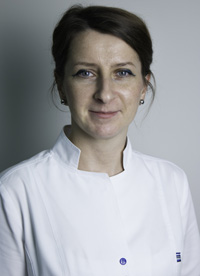 Specialist of functional diagnosticsof the highest qualification category
2006 graduated from the Faculty of Medicine of The Ivano-Frankivsk National Medical University. Internship was held in the Kyiv City Clinical Hospital №6, specialty Internal diseases.
Specialization and clinical residency in functional diagnostics was held on the basis of the Functional Diagnostics Department of the Shupyk National Medical Academy of Postgraduate Education.
After completion of the Internship Oksana Davydchuk worked as a Doctor of Functional Diagnostics in Korosten Interregional Diagnostic Center.
From 2016 Oksana Davydchuk works as a Doctor of Functional Diagnostics in Heart Institute Ministry of Health of Ukraine.
She completed such courses of thematic improvement:
–         «Functional Diagnostics in Cardiology»
–         «Echodoplerography of heart and main vessels»
–         «Daily monitoring of blood pressure and Electrocardiography»
–         «Diagnostics and treatment of arrhythmias and heart block»
She has good skills in such methods of clinical research:
–         Electrocardiography (ECG with extra leads)
–         Holter monitoring ECG (DiaCard and ECGpro holter systems) and daily blood pressure monitoring (ABPM system)
–         Tests with dosed physical activity (cardiac stress test, treadmill test – Valiant systems)
–         Spirometry with function tests (Spirolab and Spiroband systems)
Oksana Davydchuk took part in the research of using VisVan in patients with heart failure.
She is a member of the All-Ukrainian Association of Specialists in Cardiothoracic, Endovascular Surgery and Transplantology.