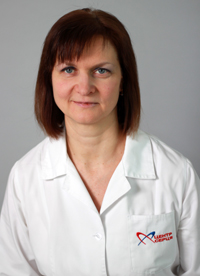 MD, PhD, Nuclear Medicine Physician
She worked as a doctor of radionuclide diagnostic at Kyiv municipal clinical hospital № 14 from 2003 till 2007, the Head of Nuclear Medicine Department at oncological hospital LISOD from 2007 till 2009.
She works in the department of Nuclear Medicine at Institute Heart Ministry of Health of Ukraine from 2009.
She has taken part in the international radiology conferences, seminars and practical training courses organized by International Atomic Energy Agency (ІAEA) to improve skills in hybrid technologies SPECT/CT and PET/CT, sentinel lymph node localization techniques, imaging on infection and inflammation, myocardial perfusion imaging/gated-SPECT; did internship program in the Nuclear Medicine department of Ikhilov hospital (Tel-Aviv, Israel) in 2007.
She takes active part in the conferences of Society of Nuclear Medicine of Ukraine, radiology and oncology`s congresses of Ukraine and European Association of Nuclear Medicine (EANM); defended a thesis of candidate of science (Ph D) in 2016; author and coauthor of more than 50 scientific articles.