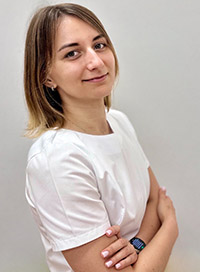 Neurologist of the II qualification category
In 2016, she graduated from Zaporizhzhia State Medical University;
2016-2017 – internship in the specialty "Neurology" at the Department of Neurology of the Donetsk National Medical University in the neurological department of KMKL №2;
Since 2018, she has worked as a neurologist at the polyclinic department for adults and part-time as a doctor at the admissions department of the BLIL Bakhmut Medical Center;
Since 2020, he is a neurologist at the inpatient neurological and stroke departments of the Bakhmut BLIL medical center;
From September 2022 to the present, he works as a neurologist at polyclinic department No. 1 for adults of the Institute of the Heart of the Ministry of Health of Ukraine.
2022 – plasma therapy courses in neurology and orthopedics.
Priority areas of activity:
-cardioneurology, acute disorders of cerebral circulation;
– neurorehabilitation;
– neurodegenerative diseases;
– autoimmune diseases;
– headaches;
– vertebrology.
Constantly participates in international conferences, trainings, schools.
Member of the Ukrainian Stroke Association;