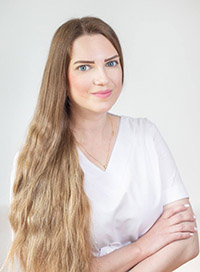 Cardiologist, functional diagnostics doctor
In 2019, she graduated from O.O. Bogomolets National Medical University.
In 2021, she completed an internship specializing in "Internal Diseases" at the Bogomolets National Medical University
After completing the internship, she worked as a therapist in Brovary Multidisciplinary Clinical Hospital.
From April 2023 – works as a cardiologist, functional diagnostics doctor at the Heart Institute of the Ministry of Health of Ukraine
Graduated from advanced training courses: functional diagnostics in cardiology.
Main areas of activity:
Diagnosis and treatment of ischemic heart disease and its complications;
Congenital and acquired heart defects;
Violation of heart rhythm and conduction;
Cardiomyopathies of various genesis;
Consultation of patients by profile to resolve the issue of conducting coronary ventriculography, methods of treatment of acquired heart defects, PE, ischemic heart disease, heart rhythm and conduction disorders; arterial hypertension.
He constantly takes part in conferences, scientific and practical seminars, including international ones