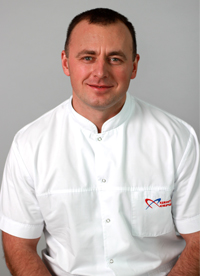 Cardiovascular surgeon of the highest qualification category, specialization "Surgery of the heart and great vessels"
2003 – graduated from the III Medical Faculty of the National Medical University named after A. Bogomolets;
2003-2005 – Completed an internship in pediatric surgery;
2005-2007 – pediatric surgeon at the Kyiv City Oncology Clinic;
2007 – achieved specialization "Surgery of the heart and great vessels";
2007 – now – Cardiovascular surgeon at the Heart Institute of the Ministry of Health of Ukraine;
2011 – achieved the highest qualification category in the "Surgery of the heart and great vessels".
Main areas of specialization:
– Complex treatment of coronary heart disease and recanalization of chronic coronary artery occlusions;
– Treatment of renovascular hypertension;
– Aortic valve endoprosthetics (TAVI);
– Treatment of atherosclerotic lesions of cerebral vessels;
– Treatment of regional atherosclerosis of the lower extremities;
– Treatment of hypertrophic cardiomyopathy;
– Endovascular closure of septal ruptures in myocardial infarction;
– Intracoronary flow metering and calculation of coronary blood flow reserves (FFR procedure) (Assessment of the need for stenting of stenosis).
Member of the All-Ukrainian Association of Specialists in Cardiothoracic, Endovascular Surgery and Transplantology.
Member of the European Association for Interventional Cardiology.
Regular participant and reporter at European international and all-Ukrainian conferences, and congresses.
Tel: 044 291-61-45