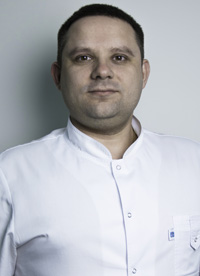 MD, PhD, neurologist
Main areas of activity:
– The function of the heart and nervous system are closely interrelated, so a new direction of medicine – cardioneurology, allows us to determine the causal relationships of the impact in disorders of the nervous system on the cardiovascular system and vice versa.
– The doctor examines and prepares patients with concomitant neurological symptoms for heart surgery and their management after surgery.
– Develops together with rehabilitation specialists the main stages of rehabilitation of patients after surgery using an artificial circulation device.
– Acute and chronic disorders of cerebral circulation, slowly progressing vascular disorders (dyscirculatory, atherosclerotic, hypertensive, dysmetabolic, toxic encephalopathy) remain relevant in practice. Somnology (all types of sleep disorders, sleep apnea), vertebral neurologist and pain syndromes.
Practical activity
2008 – graduated with honors from the National Medical University. A.A. Bogomolets in the specialty "Medical business".
2014 – present neurologist of the consultative-diagnostic polyclinic department №1 for adults of the State Institution "Heart Institute of the Ministry of Health of Ukraine"
2017 – defense of the dissertation for the degree of Candidate of Medical Sciences on the topic "Ischemic stroke on the background of metabolic syndrome: features of the clinical course and pathogenetic therapy."
He is the author of 20 scientific papers, 3 utility model patents.
Educational improvement:
Since 2018 – a member of the ESC (European Association of Cardiologists), ESC-Stroke Council (European Association of Cardiologists, Stroke Council), ESO (European Stroke Organization), EAN (European Academy of Neurology)