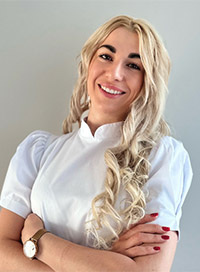 Specialist of functional diagnostics
From 2010 to 2020, she worked in the intensive care unit for adults at the Heart Institute as a nurse.
2020 – graduated from the National Medical University named after O.O. Bogomolets, majoring in Medicine. In the same year, she entered the P.L. Shupyk National Medical Academy of Postgraduate Education and completed an internship at the Heart Institute.
Specialization in cardiology and functional diagnostics at the National Medical Academy of Postgraduate Education named after P.L. Shupyka
Since 2020, he has been working at the Heart Institute of the Ministry of Health of Ukraine
Studied at the Department of Infectious Diseases of the Technical University "Usage of lung ultrasound in the diagnosis and determination of tactics of patients with COVID-19"
She participated in the scientific and practical master class "Use of transesophageal 3D echocardiography in the diagnosis and treatment of paraprosthetic fistulas."
Participated in the British-Ukrainian Symposium 2023.
Has the following modern methods of cardio-diagnostics:
– Transthoracic echocardiography (ultrasound of the heart) on expert-class machines.
– Transesophageal echocardiography